I thought I knew Morocco before I ever even stepped foot on African soil. Swarms of beggars, con-artists, and street urchins would surround me the second I got off the ferry at the seedy port of Tangier. Mysterious, turban-wearing men would try to sell me handmade carpets, scoopfuls of exotic spices, or magical monkey paws as I wandered through the winding alleys of the ancient
souqs
, or bazaars. And, to top it all off, I would have to haggle my way through the price of everything from taxi fare to a pack of chewing gum. But Morocco, dear reader, is a land of surprise. A land of false expectations.
Welcome to The Land of False Expectations

Our
Gran Tour du Maroc
began on a Saturday morning as four eager adventurers set off from Cádiz for Tarifa - the southernmost Spanish port and closest point to Moroccan Tangier from across the Straits of Gibraltar. Our coterie consisted of the Marquis of Maple (a fellow English teacher and native of British Columbia), the Baroness von Pierogi (a Polish friend and also English teacher in Cádiz), the charming Sancho Panza (my lovely fiancée), and I, the brave – as well as fearless – Don Quijote. Fortunately, the Baron von Pierogi (i.e. the Baroness' boyfriend from Boston) had made for prior arrangements concerning our departure from the European continent (i.e. he agreed to drive us to Tarifa in their beat-up diesel Opel with Polish plates).
Adventurers: Ho, To Africa!

As the Baron and Baroness exchanged farewells on that southernmost tip of Iberian soil, the Marquis, Sancho, and I got into a queue for ferry tickets.
"What's that you say? 50 € per round trip? Think I can talk them down?" I whispered to Sancho.
"What do you mean 'talk them down'? This is a ferry. You can't 'talk them down'. The price is 50 €."
"I know, I know. But we're going to MOROCCO, baby. You have to haggle for everything... and I need some practice."
"It's a ferry. The price is 50 €. We're going to pay 50 €."
"Yeah, yeah. Of course. Let me go first. I'll offer the lady at the ticket window 1 Euro and we'll see where it goes from there."
"You're an idiot," Sancho concluded.
In the end, we each payed 50 € per round trip. Sancho was right – ferry prices are non-haggle-able, especially when you're still on Spanish soil.
Our first ever view of the Dark Continent -
Apparently, it's not so dark from close up and the fare to get there is non-negotiable
The journey across the Straits of Gibraltar took a mere forty-five minutes although we had to suffer through a one-hour delay while waiting for our ship to dock. In the meantime, the Marquis brushed up our French a bit with what little he remembered as Sancho threw in her two cents and I tried to recall the glories of three years of high school French class. After a brief lesson in Arabic thanks to my trusty guide book (
eeyeh
= yes ;
la
= no ;
shukran
= thank you), we were informed that the ferry was finally ready to dock at Tangier port. All four of us braced ourselves for the swarms of Moroccans that would accost us upon disembarking and stepping first foot on African soil. We grabbed our bags, made sure zippers were tightly closed, wallets were sufficiently hidden, and passports were tucked safely away as we headed towards the exit...
Who knows what lay around the corner in this mysterious land?

A group of about ten people were waiting at port by the time our ferry had docked. They were looking for relatives or friends that must have crossed the Straits along with us. Only one taxi driver stopped us and asked if we knew where we were going or needed a lift. I told him, "
La shukran
," and that was that. He smiled politely and went back to his taxi.
"I thought there were supposed to be hordes of people trying to rip us off at the port," the Marquis started.
"Me too," chimed in the Baroness.
"Yeah... That's what the guide book and everyone who's ever been here said. It's strange, isn't it?" I pondered over why we had such a hassle-free time as we worked our way to a Currency Exchange booth. "I know! It was the '
La shukran
!'"
"You think?"
"Sure! Did you see the way that taxi driver left us alone?"
"Yeah, but he didn't really seem too pushy to begin with..."
"
La shukran
, my friend. It was the good ol'
La shukran
. Wine 'em, dine 'em, throw in a little
La shukran
and you'll have a Moroccan eating out of the palm of your hand!"
"You're an idiot," Sancho concluded.
Most of our accomodations throughout the Gran Tour even came equipped with a washing machine.
I'm convinced it was because of my "La shukran" policy.
Sancho's deduction may have been true, but "
La shukran
" served us well throughout the rest of the
Gran Tour du Maroc
. They were the two words that a Moroccan could never respectfully ignore. Carpet sellers, fruit peddlers, and hashish pushers were all taken aback by "
La shukran
" and honored that we foreigners had at least taken the time to learn even this simple phrase in Arabic. To a Moroccan, respect of another's wishes takes precedent over all else. Unfortunately, most Western visitors to the
Maghreb
(Morocco's ancient name) find it a bit too difficult to deal with
souq
vendors who simply won't take "No" for an answer. These merchants aren't trying to be rude though. It's just a part of their culture not to accept the first "No" that is given. When other tourists start responding with "I said NO!" , "Can't you take a hint?!" or "Leave me alone, you turban wearing freak!" they simply insult and, worst of all, disrespect. All of this hassle and headache could be – and CAN be, to all of you future visitors of the
Maghreb
– avoided by a little wining, dining, and a firm yet polite
La shukran
.
I never did get the hang of those pesty Moroccon bus timetables,
"Which one is Tangier? And why the hell is it written backwards?"

And so our circle of four wandered the streets of Tangier for a few hours in search of the bus station and acclimatizing our senses to Africa. We eventually came upon the station and, seeing as it happened to be an Islamic religious holiday later on that weekend, found that there were far more people and far fewer buses than usual – not that Moroccan public transport was an easy thing to decipher anyway. We decided to take a long-distance taxi (one of the massive diesel-powered Mercedes vehicles dating back forty to fifty years and affectionately dubbed
Grands Taxis
by the locals) to our second destination on the Moroccan coast – a small port town named Asilah about 50km (30 miles) south of Tangier. As we drove away from Morocco's most famous port and most frequent point of entry, I realized I didn't really know this nation at all. My first and foremost assumption – that hustlers and beggars would swarm me at the port – had never materialized. Moroccan false expectation number one: Tangier is not populated by scam artists and street urchins who all coincidentally reside near the port. The
Maghreb
was indeed a land of surprise. I leaned back, stared out the taxi window, and searched for a seatbelt. There weren't any and, apparently, the taxi driver had never heard of such a wondrous, yet mysterious, life-saving device either.
You know you're in North Africa when...
A man is sweeping the sidewalk! (Oh, and when the stop-signs are in Arabic too)
Asilah is a quiet resort town on the Atlantic coast renown for the long, golden beaches to the north and south. It's a popular spot with Moroccans and Europeans alike (we saw a number of French and Spanish motor-homes and car-plates here) and the constant stream of tourists – along with the recent rise of beachfront property values as the taxi driver told us – means the residents aren't nearly as poverty stricken as the rest of their fellow countrymen and women. In other words, it was a great place to spend a first night in Africa and gradually adapt to our new surroundings.
Asilah was the perfect, calm place to slowly prepare for the madness which lay ahead

Once the taxi had dropped us off, a friendly local sitting at one of the cafés asked us if we needed a place to stay and showed us to an unoccupied rooftop room in what must have been the home of his relatives. We greeted the cheerful children as we walked through the hallway and up the stairs and, after we saw the room and accepted it following a brief haggle, tossed our backpacks onto the floor and sunk into the sofa's oversized pillows. The day's long journey of passage into the Dark Continent had finally come to an end. As the Marquis and I rested our heads and quibbled over who had managed to pack less socks and clean underwear for the 8-day
Gran Tour
(he had only brought two pairs of each – one less than I – but I insisted that most of the three pairs I had brought were so hole-ridden that they didn't even count as socks or underwear per se), Sancho and the Baroness went to freshen up...
Women are the same the world over - Nothing attracts them like a shiny piece of jewelery
Faithful reader, have you ever stared into the abyss of a dark hole, into the mouth of the Beast, and wondered what strange yet putrid surprises lie in its depths? Have you ever looked into the void and pondered as to what dwells in the bottomless bowels of the Beast? Well, Sancho and the Baroness took one look at the Beast (a.k.a. the Turkish toilet) that afternoon and cringed in fright. I won't lie to you, even I – the fearless Don Quijote – felt my knees shaking as my bare buttocks approached the Beast's all-devouring throat... But still I could not and left that dark lair in the shadow of defeat. There's one thing about the
Maghreb
, dear reader, that you cannot avoid and that is the call of the Beast. He is omnipresent, lurking around each murky corner, waiting for you in His noxious lair. Worst of all, there's nothing you can do for to befriend the Beast is your only option. But befriend Him you must. Don't be timid! Loosen those britches, release your pale bottom, and feed Him. For the Beast, I assure you, must be fed eventually... His insatiable appetite knows no bounds.
The Beast is a formidable foe, but one that must be befriended at all costs...
Just take off your pants and go in smiling. No one comes out a loser, even if the first attempt was a failure.
As bad as the Turkish toilet was, and the realization that we would be stuck using it for the next 8 days, we still managed to find a few pleasant surprises that first day in Asilah. We wandered through the town's
medina
(a term for the old Arabic part of each Moroccan city which usually consists of narrow, winding roads enclosed within medieval ramparts), browsed through the colorful fare of local clothing and shoe vendors, and discovered what the inhabitants of the
Maghreb
affectionately call Moroccan Whiskey – mint tea.
"I think I'll try some 'Tea has mint.' What about you, honey?"
"I'm not sure... Either 'Milk with the chocolate' or 'Lawyer juice' sounds delicious too."
While sitting in a square and sipping away at our delicious beverage (mint tea would become our drink of choice in a country where alcohol was near impossible to find), we soaked up the sounds and the sights of this enchanting land. The lovely Sancho even managed to get accosted by someone's pet monkey that day... And "pet monkey" is not a euphemism for something else, you perverts.
"I don't care whose pet monkey it is, Sancho. I don't want you touching it. You're MY fiancée, damn it!"
The next morning, we set off for Meknès, a city of just under a million inhabitants and once capital of the mighty Arabic
Maghreb
Empire in the 17th Century, by train. The city was nearly 250km (155 miles) away from Asilah which translated into about a five hour journey including transfer. The less said about the train ride and conditions, the better. I felt like a prisoner in Nazi Germany being sent off to a concentration camp and, to top it all off, the call of the Beast was growing stronger and louder. We never took a train in Africa again and I don't think I ever will.
The Marrakesh Express:
I don't know what Crosby, Stills & Nash were smoking but it must have been strong if they enjoyed THIS train ride
Meknès was our first true taste of the
Maghreb
and, as far as I was concerned, the best place we visited throughout the entire
Gran Tour du Maroc
. There weren't too many tourists, the locals were extremely friendly, and the main square (overshadowed by Bab el-Mansour, the entrance gate to the
medina
and the imperial city) was a great place to grab a cup of piping-hot Moroccan Whiskey, sit back, unwind, and do some good ol' people-watching. Because Meknès is also a city which doesn't really pull in the tourists as much as, say, Marrakesh or Fès, it is also a lot poorer and reflective of how the average Moroccan truly lives. This isn't a package holiday or group destination folks...
Our room with a view: My girlfriend forced me to keep my shoes on the window ledge because they were stinking up the hotel. I hope the homeless guy below didn't mind.
One visit to Meknès and you realize you're in a country with an average monthly household income of 300 €, no social security or public healthcare, and one of the highest rates of illegal migration to Europe. The poverty all around you, though, is not something to be deliberately avoided. There's nothing I hate more than the American and Canadian tourists who go to their Caribbean destination and never leave the hotel complex or see how the locals love. The same happens with Europeans in Africa and South-East Asia – the residents of wealthier nations come as tourists, stay locked up in their pool-side resorts, and never even bother to explore the sights, sounds, and tastes of the country in question. As long as the hotel has cheap cocktails and buffet lunches, everything is fine. That's not traveling. That's not tourism and that's not Morocco. Meknès – in all of it's charm, life, atmosphere AND poverty – is Morocco. As one taxi driver told us on the
Gran Tour du Maroc
, "I do not like the people who come to my country and stay behind high walls or take pictures of us from their scented and air-conditioned coaches. These people only take advantage of my country. But you – travelers who walk and talk with us, live with us – may come time and time again. As Allah commands, we shall always welcome you with open arms."
Meknès was Morocco at it's most authentic, from the metalworker's souq to a vegetable market
We stayed in Meknès for a few days and explored every nook the labyrinth within the
medina
had to offer. We entered mosques open to infidels (there weren't many), wandered through the date, nut and olive section of the food bazaar, and even met a friendly man who showed us to his brother's store in the metalworker's
souq
where, after a short haggling session, the Baroness von Pierogi ended up buying a handmade bracelet (still no magical monkey paws in sight) for half of the original price. We ate at a, by local standards, expensive family-run restaurant filled with tourists and at a cheap canteen where we were the only ones who didn't speak Arabic. That rundown canteen, by the way, served up the best meal I ate throughout my entire stay in Morocco.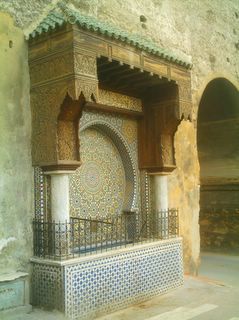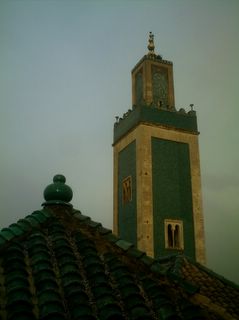 The centuries of grandeur and empire have long since left Meknès... but the monuments still remain
The day before we left that enchanting city, as the
medina
started looking more and more familiar, the Marquis of Maple spotted an alley leading off of the main square that we had somehow overlooked during the previous days. We followed his lead and our noses. It was a peculiar aroma, one I couldn't quite place my finger on. Was it the Beast? No, no – A finger can't be placed on THAT odor. Then it dawned on me. It was the smell of blood. We had entered the meat section of the food bazaar. Pools of coagulated fluid covered the uneven concrete floor. Crimson specks dotted the rarely scrubbed walls of two dozen or so butcher stalls. Camel, goat, and cow heads – still dripping with gore – rested on the filthy ground or leaned against the stained walls. And the flies... The place was covered in flies. They festered on cow's tongues, ground meat, animal hooves, and camel eyes. When an interested customer pointed to one of the cow heads on the floor and the butcher started chopping away at the skull, it was time to go. The Marquis was the first as he covered his mouth and nostrils and fled the sickening stench. The Baroness followed soon after. Once the cow's skull had been breached and the brain (now freshly being invaded by a hungry swarm of flies) was being scooped out and bagged, Sancho and I locked palms and hurried towards the exit... You've never witness carnage, dear reader, until you've been to a Moroccan meat market – And I don't mean Singles Night at
Ali Baba's House of Dance
.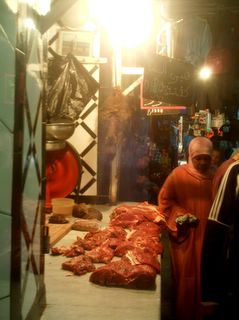 The meat market has everything to satisfy your cooking needs from cow heads to camel steaks
The
Gran Tour
also led us to make a day trip from Meknès to the popular attractions of Volubilis and Moulay Idriss. Volubilis was a Roman outpost of about 20,000 people and is both the largest and best-preserved of Morocco's ancient ruins. It's incredible how far south those wacky Romans made it and how durable their constructions were. Moulay Idriss is another important town from Morocco's past but from about 1000 years after Volubilis. This town is the most sacred Islamic site in the
Maghreb
and contains the mausoleum and resting place of the founder of Morocco's first royal dynasty. He was a great-grandson of the Prophet Mohammed, just as the current King is also a direst descendant of the Prophet, and his name was – you guessed it – Moulay Idriss. This town which bears his name, and its famous mausoleum, is perhaps the country's most frequented pilgrimage site and has only allowed non-Muslim infidels passage through its city gates for the past few decades or so... although we're, understandably, still not allowed entrance in the sacred final resting place of Moulay Idriss. We decided to set off early for Volubilis that day, in order to avoid the large groups of tourists, and then head off to Moulay Idriss where we could spend the afternoon before returning to Meknès. Unfortunately the Marquis, who as holder of the only watch/alarm was the official time-keeper of our company, had somehow forgotten to adjust his watch to Moroccan time (which is two hours behind Spanish time) despite the fact that we were already into our fourth day of the
Gran Tour du Maroc
. The result? We made it toVolubilis so early that the ticket office hadn't even opened yet.
Smile dear -- We're infidel tourists at the most sacred Islamic site in Morocco!
Who's that among the Roman ruins?? Caesar Augustus himself!?! Oh, it's just you, Sancho... cute.
After a few days in Meknès, and having taken in all the sites both within that wondrous city and in the nearby towns, we headed off for the next leg of the
Gran Tour
– the imperial city of Fès. Unwilling to take another train and, once again, unable to find and inter-city bus, we decided to hire a
Grands Taxi
. The Marquis and Sancho, our resident Francophones, spoke to a taxi driver:
"OK. I'll take the four of you to Fès. No problem."
"Great!" the Marquis smiled and gave us a thumbs up as he lifted his backpack to put it in the trunk.
"Hold on," Sancho interrupted. "How much is this going to cost us?"
"108 Dirham," the driver answered. That worked out to about 10.80 €.
"Hmm, how about we give you 100 Moroccan Dirham?" as Sancho decided to try her hand at haggling.
"I'm sorry, mademoiselle. 108 Dirham."
"Come on. You can't knock off 8 Dirham?"
"No, I cannot. 108."
"Well then!" Sancho crossed her arms. I could tell she was getting a bit flustered. "Maybe if you don't give it to us for 100 Dirham, we'll find another taxi driver who will!"
"You're welcome to try, mademoiselle. But 108 is the government set fare for the Meknès to Fès journey. It is the price we must all charge by law. No more, no less."
"Oh." Moroccan false expectation number two: Not all things are haggle-able.
I smiled and whispered into my blushing fiancée's ear as we entered the taxi, "Nice job trying to talk him down that 80 cents... YOU're an idiot," I concluded.
Now spices... THAT's something you can haggle over!
Fès is a city of nearly one million inhabitants crammed into the walled
medina
which dates back over one thousand years. It has been designated by UNESCO as a World Heritage site in its entirety and is considered to be one of the largest living medieval cities on the planet. It is the cultural and intellectual capital of Morocco and, until the French moved it to Rabat, was the centuries-old political capital as well... That's what my travel guide book said. Personally, I found the place too big and too spoiled by the constant stream of tourists that contribute so much to the city's economy. The
medina
just didn't have that same charm as the one in Meknès and the locals weren't nearly as friendly. In fact, it was in Fès where the Marquis discovered the limits of "
La shukran
" when one of the many pushy
souq
vendors rebuked him, "Are you Moroccan? No! So don't speak Arabic to me."
You can find anything in the city's souqs from hand-made shoes to ready-made grandmothers

Another thing my guide book touted about this cultural capital were the countless mosques and Koranic schools which boasted ornate rooms and chambers built to be unrivaled in their splendor. Unfortunately, infidels such as us English teachers were once again not permitted entry into about 90% of these buildings. Instead, we had to make do with staring at donkeys dropping poo-pellets in the middle of the collapsed buildings and filthy squats which were often found right across the street from the grand mosque entrances. But Sancho was happy. She likes taking pictures of "cute" donkeys.
"Good thing we didn't get into the mosque. We might have missed this."

The most impressive thing in Fès was probably the leather
souq
. In the center of this district, we stood on a balcony and laid our eyes upon the fetid tanneries. The leather tanners working below us were using techniques developed nearly 7000 (that's right – three zeros after that 7, not two) years ago and passed on from generation to generation. The sheep skins were being beaten and scrubbed to one side and then dipped and cured in mud-brick pits filled with, as we were told, an ancient liquid recipe consisting of pigeon droppings, cow urine, animal fat, brains, sulphuric acids, salts, and natural colors. The stench was overwhelming and, thankfully, the guide who had led us to this district offered us some mint leaves to cover our nostrils and mask the rancidness. We all gladly accepted except for Sancho. She claimed the noxious odor was nothing compared to the stink-bombs I launch at her each and every morning.
The colorful tanneries and us breathing through mint leaves as an immune Sancho snaps away
Something that happened to dawn on me while in Fès, although I had definitely first noticed it in Meknès, was the ridiculous amount of barbershops we had come across. Now that I think about it, it was also quite strange that these shops wouldn't close for the day until about eleven o'clock or midnight – well after most of the hustle and bustle of the
medina
had already died down. Every corner, every street, every alley had a barbershop. Sometimes there were even two or three of them right next to each other. In fact, we even saw barbers shaving men or giving them a little trim in the middle of busy city squares and quiet public parks. Not surprisingly, most of the barbers we saw were never really doing anything seeing as there just weren't enough customers. A case of too much supply and not enough demand, but I don't think the average Moroccan on the street has ever heard of Microeconomics. It seemed non-academically obvious to me, though, that when you're struggling to put food on the table, it's a lot more feasible moneywise to buy a ten pack of BICs than to go to the barbershop every other day. It still strikes me as odd to think that we couldn't find a single roll of toilet paper throughout the entire
Gran Tour du Maroc
but barbershops were a dime a dozen. And I'm also convinced this wasn't just an isolated phenomenon peculiar to Fès or Meknès. It must be like that in every large city throughout the
Maghreb
. Black holes, the Bermuda Triangle, the origins of the Universe and bellybutton lint, and, now, Moroccan barbershops... Just one more mystery to add to the pile.
If you're ever in need of a shave, Morocco's the place to go.
You can visit a 24-hour barbershop or just have it done in the park.

The day before we left Fès, as the four of us wandered through the textile
souq
, the lovely Sancho bought an enchanting, hand-made wedding dress. She tried on a few, did a bit of haggling, and ended up paying half the original asking price for a beautifully embroidered three-piece outfit. While this was going on, the Marquis of Maple thought out loud about how interesting it would be to visit the Sahara. The vendor who had sold Sancho her dress and who was now wrapping it up, said he had a cousin who organized trips to the desert and he would gladly lead us to him once he finished. The vendor soon stepped away from his stall and led the Marquis to a carpet-lined entrance down a narrow alley. We all followed suit and soon found ourselves being shown carpets while sipping complementary Moroccan Whiskey.
"No, no. We're not interested in buying any carpets," we all insisted as the Berber merchant rolled out one exquisite tapestry after another.
"Of course, friends. Of course. But it costs nothing to look," as he continued to unroll each intricate carpet and explain the woven symbols and process involved in making each of them.
"What happened to the desert?" I asked the Marquis when our Berber host wasn't looking.
"He'll probably tell us after this pointless little carpet show."
Before long, the Marquis was sitting cross-legged on the floor next to the carpet merchant and haggling over the price of a bright, mint green, camel wool carpet.
"An exquisite piece, my Canadian friend. All made by hand and with natural colors used to dye the camel hair. Of that I assure you. Every bit worth its price!"
"Which is?" the Marquis started.
"1100 Dirham." That's about 110 €.
"Hmm... That seems a bit pricey. How about... 700 Dirham?" 70 €.
"What a haggler! My friend, please. Think of me and of my poor family! As I told you before, this is hand-made and of the finest quality. It took months to weave. Now tell me another price... An HONEST price. One that can help to feed this humble servant of Allah and his children. Think of me as your family."
"Hmm..." the Marquis thought it over. "How about... 900 Dirham [90 €]? No, no, sorry. Wait... That's not an honest price... Let's say 950 Dirham?"
"Very well, my Canadian friend. You are quite the haggler! Are you sure Moroccan blood does not course through your veins!? So, shall we agree upon 1000 Dirham then?" as he offered the Marquis his hand.
"Uh... okay I guess." They shook hands in agreement. "The only thing is I don't have 1000 Dirham. I do have 100 € though."
"That will do fine." Then our Berber carpet vendor called over his assistant and had him wrap up the carpet. "And perhaps a small tip for hard-working Hassan here? Look how well he packages the carpet! Perhaps that 2 Euro coin I saw in your change purse."
"Sure. Here you go, Hassan."
"You are very good, my Canadian friend. Quite the haggler!"
The Baroness finally interrupted all of this, "What about the desert?"
"Ah yes. Well, here are some photographs," as he handed us an album full of pictures. He continued speaking as we flicked through. "What you see there is my hotel on the outskirts of the Sahara. It has all the amenities expected from such a hotel and even a swimming pool. If you prefer something more authentic, I have another hotel not far from there designed in the fashion of a Berber desert encampment. I would personally meet you here in Fès, drive you to either of the hotels in my Jeep, and leave you there in the capable hands of our staff. Truly a unique experience, my friends!"
"Yeah," I entered the conversation. "We might consider it when we have more time. We only have about a week here in Morocco."
"No problem, my friend. Of course. You may contact me at any time."
"Yeah, speaking of that... How would we contact you? Would we have to mail you a letter in advance? Of maybe a telegraph or something?"
"Of course not! Simply write me an e-mail or call my mobile phone." He handed us a business card with
couscous@caramail.com
on it and continued, "I have a portable computer that I take with me whether I am here in Morocco or abroad. You can contact me at anytime."
As we walked back to our hotel, Sancho holding her wedding gown and the Marquis with a mint green, camel wool carpet over his shoulder, the Marquis said, "Well, at least I talked him down 100 Dirham, eh guys?"
"Well, actually," Sancho replied, "you gave him 102 € with that tip."
"Oh, right. So I guess I only talked him down 8 €. Hmm, it doesn't really seem like that much."
"And the exchange rate isn't exactly 1 Euro equals 10 Dirhams. It's more like 1 Euro equals 10.7 Dirhams. So I think you might have even ended up paying more than 1100 Dirham."
"Son of a..."
"But it's a nice carpet. It was worth it. And you really wanted it, right?"
"Well," the Marquis fidgeted. "What I really wanted was a small wooden chess set... And maybe one of those traditional Fès hats with the tassel."
"No problem!" I finally chimed in. "If you want to return the carpet you can always write the poor Berber carpet merchant an e-mail on his brand new laptop. I'm sure he'll reply right away... If he's not too busy listening to his iPod or on holiday in Monaco."
False expectation number three: We never did find a
souq
vendor selling magical monkey paws, but we did end up buying a mint green, camel wool carpet.
The Marquis immediately after overwhelming the carpet vendor with his Canadian mastery of the haggling arts
Early the following morning, Sancho and the Baroness went to sort out bus tickets for the final leg of the
Gran Tour du Maroc
. The Marquis and I were left behind to make sure everything was packed and ready to go. The ladies returned with four tickets to Chefchaouen, a quiet little mountain town five hours or so to the north where we would be spending the next two days unwinding. We threw on our backpacks and headed towards Bab Bou Jeloud, the Fès
medina
main gate, where we decided to get a coffee before the long bus ride ahead. We sat down at literally the last café in Fès, the one to the right of and just inside Bab Bou Jeloud.
"You want a strong cup of coffee? Trust me, that last shop on the right is just the place."
A small, bald man with a strange Band-Aid covering his entire left eyebrow came to our table, "Coffee? You want coffee?"
"Uh, yes, please. I actually am in more of a coffee mood than mint tea," I replied.
The Marquis agreed.
"Black, definitely black. Strong, right? Black coffee?"
"Yeah, okay. But with some milk too.
Café au lait
."
"I'll have a coffee too," the Baroness interrupted.
"No!!!" the waiter stated firmly. "No coffee for you, mademoiselle. Trust me." He turned to us again, "Only for these two gentlemen." The one-eyebrowed waiter then slyly rubbed his hands together and grinned, "Well, then. Two black coffees, gentlemen?"
"Sure, but with milk, please.
Shukran
."
His grin then burst into diabolical laughter as he continued to rub his coarse hands. "I shall make YOU a cup of coffee you will NOT soon forget, my friends!" and off he went into the kitchen.
[Well, maybe the conversation in that little café didn't go exactly like that, or wasn't even remotely similar, but that's the way I remember it and I'm the one doing the chroniclin' here, damn it.]
The waiter brought us the two strongest cups of coffee either of us has ever sipped. I added five sugar cubes to that little brown liquid concoction and it was still unbearably bitter. We finished our drinks, paid, and finally went towards the bus station as the one-eyebrowed waiter cackled maniacally in the distance.
I only went to one Internet Cafe while in Morocco because I ended up taking an hour to type a simple e-mail.
Forget the crazy coffee guy - whoever put those keyboard letter-keys in such odd positions is the real maniac.
Even during the long, arduous ride to Chefchaouen, the coffee was slowly working its evil black magic. The Marquis and I began to feel a bit under the weather as early as then, but brushed it aside as being due to the bus driver's obvious lack of steering ability.
The Rif Mountains: Home to a pristine landscape, bucolic way of life, and reefer
Chefchaouen is a picturesque little mountain town set in the heart of the Rif Mountains (the slang term for marijuana,
reefer
, comes from here) where all the buildings are painted in quaint shades of blue. It was the perfect place to relax for a couple of days at the end of an exhausting
Gran Tour
.
Chefchaouen was a pleasure to explore...
The Marquis felt the first rumblings that very evening. We were having dinner at a nice little outdoor restaurant on the main square when he excused himself. Our traveling companion returned fifteen or so minutes later with a look of disbelief on his face. All he could manage to say was, "Now I know why the Japanese lost... Hiroshima must have been a mighty blast indeed." I would have to wait for the following afternoon in order to decipher his mysterious words.
And its hidden treasures were a pleasure to discover...
The few days we spent in Chefchaouen didn't seem like we were in Morocco at all. Everywhere we turned, we saw Spanish college students, Spanish signs, and even Spanish food. As beautiful as that little gem of a mountain town was, there was one thing that unabashedly tarnished it and that was those young Spanish tourists. They spoke to everyone in Spanish peppered with slang and became frustrated when the locals didn't understand a word or two. They ordered Spanish omelettes, Spanish breakfasts, and even Spanish paella from local restaurants and seemed shocked when these foods weren't available. Morocco, to these young tourists from across the Straits of Gibraltar, was just a cheap place where hashish could be bought – nothing more. I lost a lot of respect for the Spanish of my generation during that brief stay in the Rif Mountains. In fact, I don't think I will never be able to hear them – as they often do – criticize Americans again for I could barely see a distinction between frat guys from back home who fly to Cancun or Spanish college students who drive down to Chefchaouen, except for perhaps the fact that they're on different continents.
"Another Spanish tourist?! That's it, I'm outta here."

The day before the
Gran Tour
was to end, I woke with a rumbling in my stomach that just wouldn't go away. The coffee from the previous morning had finally shown its full potential. By the time we had seated ourselves for lunch, I could withstand it no longer. The call of the Beast had grown too powerful... He needed to be fed.
"Damn Beast is calling me again. Shouldn't have had all of that couscous last night."
What I am about to tell you, dear reader, is not for the faint of heart. Furthermore, I assure you, the things I am about to recount did come to pass. I have oft created stories, embellished, and even lied in the past – but these events, the ones you shall now read about, are factual and unaltered. I write them as they occurred and leave it to posterity, and science, to decide whether they are true or not.
"Gather round, children. I have a tale to tell:
It all happened a few years ago, when the famed Don Quijote visited our humble little town..."
As I bore my bare bottom to the Beast and relinquished what little self-control I had left, an explosion of unfathomable proportions spread out in a 360 degree radius. I was lucky enough to grab onto an exposed pipe protruding from the wall as I was propelled forward from the mere magnitude of that massive bowel movement. The ensuing shockwaves which resonated in that little tiled lavatory lasted for at least five minutes – eventually resulting in the shattering of a mirror and the dislodging of a few loose tiles. I struggled to clean up the mess in the aftermath, especially at the devastated Ground Zero, but soon found my relief efforts hampered by copious amounts of previously undiscovered natural gas which must have surfaced during the aforementioned explosion. I grabbed onto that same exposed pipe protruding from the wall and held on for dear life as my thoughts drifted back to that cursed café waiter in Fès – he had indeed brewed me a cup of coffee I wouldn't soon forget.
"What are you doing, baby? Don't you know I got diarrhea?"
As I reemerged from the lair of the Beast, having fed Him a feast, I returned to our coterie with that same look of disbelief I had witnessed on the Marquis' face but one evening before. How could one man produce so much gas? Only then did I fully understand the Hiroshima comment and nod to him in solidarity.
"Jesus," I began. "What the hell did that guy put in the coffee yesterday?"
"You think it was the coffee that did this to us?" the Marquis replied.
"It had to be! It's the only thing we've had this entire trip that the girls didn't touch, right?"
Sancho and the Baroness agreed. They were both diarrhea-free.
"What a way to end the week," the Marquis shook his head.
"I know. How can a little cup of coffee do all this?"
"No idea, man. No idea."
"That really IS the strongest cup of coffee I've ever had. If that doesn't wake you up, I don't know what will... Just think... If we could somehow harness the power of that coffee! Send tourists to that little café in Fès and then, a day or so later, capture the gas. Put it to good use. My God, do you realize what we've stumbled upon here? A continuously renewable energy source of such proportions... why, why... That little café could power all of Morocco!"
"You're an idiot," Sancho concluded.
This guy must have overheard us as he appears to be pondering the same thing:
"If only we could somehow harness the power!"

The following day, we caught the only bus out of Chefchaouen directly to the port of Tangier. It was a three hour journey north but, thanks to a few miraculous pills the Marquis had wisely brought along from Spain, the call of the Beast was successfully subdued. As we arrived late in the afternoon, we found that one ferry had just departed and, due to yet another delay, would have to wait nearly three hours for the next ship to dock. Our Spanish home was just in sight across the Straits of Gibraltar as we sat on the concrete and waited.
Ah, Spain - the land where bull is king - is calling from across the Straits

Our ferry finally arrived as the sun completed its slow descent over the horizon. We boarded – the weary Marquis of Maple, the fatigued Baroness von Pierogi, the exhausted (yet still lovely) Sancho Panza, and I, the battle-worn Don Quijote – and sailed off towards Spain, Tarifa and, eventually, dear old Cádiz. As I stood there on the deck of the ship along with the fading daylight and stared southwards, to Africa and the
Maghreb
, I felt sad that the
Gran Tour du Maroc
had finally reached its end. It had been a great adventure and a great discovery of a mysterious land of false expectations I had once known nothing about. I continued staring at the fading lights in the distance and feeling that strong sense of sadness – until I realized it wasn't sadness at all. No, that was a different feeling altogether... One that could only be subdued by those miraculous little pills the Marquis was carrying. Thank Allah we were going back home.