I've been working in Scotland for the past month with the officious title of "Group Leader". My duties entailed assuming responsibility over a group of eleven Spanish teenagers as they attended English Language Summer Camp along with some two hundred other students from all over the world. The kids could be problematic at times, but at least I got a free vacation out of it And besides, whenever things got a bit too demanding, as they often do when one is put into such a position of authority, there was always the local pub around the corner waiting with a refreshing glass, or two, of Scotch whisky and soda.
As far as Scotland itself was concerned, the country didn't really surprise me all that much. Everything was, more or less, as I had expected. The weather was crappy, everyone loved golf, the true Scotsmen didn't hide their manhood by wearing something under their kilts, there were a lot of castles on the rolling green hills, and the bagpipes blew – although the haggis, amazingly, didn't. At the end of the day, the two things that required the most getting used to boiled down to the Scottish accent and the damn cars always coming from the right.
Every true Scot enjoys a nice round on the green
The accent... Aye lads, the accent.
"Aht's forr poonds ahty sex pee."
"Umm..." I hesitated a bit "...Yes? Please?"
She returned my confused glance with one of her own. "Aye. Ah, no. Forr poonds, ahty sex pee." as she turned the register towards me and pointed at the display.
"Oh! Four pounds, eighty-six pence. Sorry. Here's five pounds."
She took the five pound note and shook her head disappointedly as she mumbled, "Bloody turrists."
"Hey, wait a minute. I heard that! I'm not a tourist. Well, I am. But I speak English. I mean, I'm a native speaker. I just didn't understand what..."
"Aye, aye," as she handed me my change. "Next, please!"
The thing I don't get, and it only dawned on me halfway through my stay, was that if I was having problems understanding the locals, how the hell were my Spanish kids coping? Taking them to Scotland to learn English didn't seem like exactly the brightest idea.
After the first few days had passed, my ears started to adjust and I began making out about fifty percent of what the local Scots were saying. I know what you're thinking – fifty percent isn't anything to brag about. But hell, that's about as much Spanish as I understand in Cádiz and I seem to get by without any problems there. Just as I was about to complement myself on how much Spanish I must have picked up over the last year – seeing as I can understand a Scotsman and an Andalucían about the same – my first almost-accident happened.
"Bloody turrist!" he laid on his horn as the car came to a screeching halt.
"What the...? Oh right. Britain."
Well, knowing that Churchill once got hit by a taxi cab in New York because he looked right instead of left comforted me somewhat. Although I'm no Churchill, I've done a few significant things in my day to warrant being stupid enough to not look before I cross. Why just the other day I helped an old lady carry her groceries up a flight of stairs. It may not compare to single-handedly defeating Fascism, but it's got its merits.
Meanwhile, as I was busying myself fine-tuning my ear and looking right, left, right, left, right each time I crossed the street, the students seemed to be getting along fine. They were making friends from all corners of the world and speaking English with all of them. To be honest, the Spanish speakers tended to hang out with the other Spanish-speakers, just as the Italians, Chinese, and countless others hung out with their own, but they were still forced to integrate through a number of entertaining school organized activities. Surprisingly, some of them even made non-Spanish friends of their own accord. And so, confident that all was fine and taken care of by the English Language Summer Camp, I did what anyone in my position of authority would have done. I abandoned the kids for a few days and went on a little private tour of Scotland.
The train rides through the countryside were breathtaking. Tall rugged peaks would slowly blend into dense forests and settle into lush, green pastures strewn with sheep and cattle. And then there were the lochs dotted with castles and ruins... Loch Lomond, Loch Tay and, of course, Loch Ness. I left early one morning from the neighboring town of Inverness, where I had arrived the night before, and trekked through the ancient evergreens to find myself peering into Ness' deep blue waters and wondering whether some pre-historic monster was actually lurking below. A breath of crisp Highlander air cleared my mind as... what the hell? My mobile phone was ringing. They always pick the perfect moment, don't they?
"Hello. Who is it?" I answered rather curtly.
"Aye, hellu." It was the school director of the English Language Summer Camp. "Well, Ah em surry ta disrupt ye, boot it seems we haev a wee problem wit two of yerr stoodents. They werr cot shoplifting."
"What? Shoplifting? Did you say shoplifting?"
"Aye, shoplifting. The police haev em noo, boot it dinnae look serious. Caen ye meet us at the constabulary?"
"The co-stib-u... The what?"
"Aye. Ye knoo. The police station."
"The police station? You want me to go there?"
"Aye."
"Well, umm... I'm a bit busy now. Do you need me now?"
"Busy... na, Ah suppose naught. Dinnae wurry. Ye need ta sign fer the police report. But ye caen git it in the morrning."
"Okay, good. And the girls?"
"Dinnae wurry. We arr gitting them noo. Ah jus wanted ta inferm ye aboot the inceedent."
The school director's accent was too thick and I didn't catch the end of her last sentence. "Umm... Yes? Please?"
"Aye, see ye in the morrning."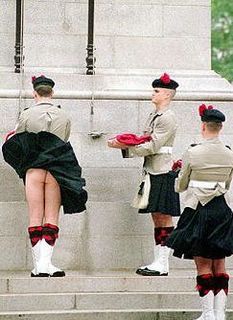 There's no shame in what God gave you
I immediately – after a cool whisky and soda and another almost-accident – got on the next train out of Inverness. The next morning I met up with the school director and the police. From our unintelligible conversation, I managed to gather that the girls had been caught shoplifting some stupid little trinkets. The were young and the police understood. The authorities simply gave the girls a slap on the wrist and the director would punish them by not allow them to go on any more school excursions or activities. When I spoke to the young ladies later on in the day, they were full of embarrassment and genuinely apologetic so I didn't tack any rebukes of my own onto their sentence. After all, I couldn't think of any better way to punish two Spanish teenagers than by having them sit in a "constabulary" and try to decipher a Scotsman's accented reprimands for half the night. Bloody tourists.