"Everything for TWO Euros! That's right... TWO EUROS!!" a sun-baked Spaniard sitting lazily in his chair and sipping beer yells into the passing throngs. The people take no notice as they go along their business, rummaging through the garbage strewn out before them. "Not two HUNDRED Euros. No, no. Not two THOUSAND... Just TWO EUROS! Everything! That's right! TWO EUROS!" He continues his half-hearted sales pitch, making it echo across
Mercado Central
– the city's main market square. It usually smells of fresh fish, cured meats, fruit and vegetables here. But not today. The food market is closed during the weekend. There's something more interesting afoot... It's another Sunday morning in Cádiz.
For those of you who have ever visited Madrid, you will undoubtedly know what
el Rastro
is. Over half of the Spanish capital's population must turn out for this weekly event. It's an enormous flea market that takes place just south of the city center and comprises an entire neighborhood. Vendors set up shop on the side of the countless streets and alleys after the police have cut off traffic for the day. Madrid's residents can't get enough of it and, if you ever visit the city, it is the one event no tourist should ever miss. You can literally spend your entire Sunday wandering through
el Rastro
encountering one hidden treasure after another. I, for example, once spent two hours going through one guy's collection of hard-bound English books (only one Euro each!) while my girlfriend was a few blocks down the neighborhood digging through a mountain of authentic, new leather jackets (made in Spain and only thirty Euro each) searching for the perfect fit.
El Rastro - Andalucía style
(Notice the man with the hat on... and his hand!)
But that was in Madrid. Things are a little different down here in Andalucía. The love of flea markets, I've found, isn't restricted to only the capital. Spaniards all over the country can think of no better way to spend their Sunday mornings than by going through the junk that someone else can't wait to throw away. The thing is, here in Cádiz, we're a bit over 600 KM (about 400 miles) away from the Spanish capital so the residents can't really drive every week to the biggest and best second-hand sale South-Western Europe has to offer. But not to fret. They've done the next best thing. They've started their own flea market, which the locals have adoringly dubbed,
el Rastrillo
– or the mini-Rastro.
Not even a serious injury can keep a true
Spaniard away from the lure of a flea market
Seeing as Cádiz is only a fraction of the size of Madrid, our mini-Rastro isn't nearly as impressive as the original. Ours encompasses only one city block, where
Mercado Central
is located. As for the goods on sale, the selection is also severely limited due to the significantly lower population. But that doesn't stop the locals, and us foreigners, from turning out faithfully each and every Sunday morning to see what's on offer.
The products available for purchase at
el Rastrillo
, like their counterparts at
el Rastro
, are comprised of three main categories: 1) Hidden Treasures 2) Reasonable Finds/Bargains and 3) Complete Junk. Whereas Madrid's vendors offer a healthy mix of all three, which can be a source of scavenging pleasure for hours, we here in the provinces are restricted to mostly goods from Category 3.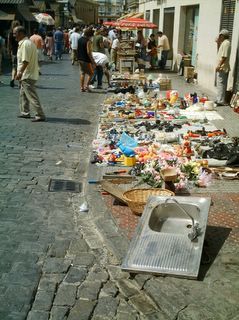 El Rastrillo: Any junk imagineable – even the ol' kitchen sink
A brief list of items my girlfriend and I have run across at
el Rastrillo
simply to illustrate the point...
– I needed a new phone and the vendor tried to offer me a used NOKIA. Perfect working condition. Number
7
button missing. Price: 10 €
– Chainsaw minus the chain. Price: 5 €
– A broom without the stick. Price: 50¢
– I got homesick once when I saw an authentic "US 25¢ Quarter" minted in 1992. Price: 1 €
– Small pile of crossword puzzle magazines for sale. Upon closer inspection, we found that all the puzzles had already been completed and the books, in fact, were written in
Finnish
. Price: 20¢ each, 2 € for the lot
– A Spanish translation of an East German book called
The Diary of a Homosexual Communist
. Price: 50¢
– My girlfriend wanted to buy her niece a present. She saw a plastic doll in the distance. It was naked and missing an arm and an eye. Price: 1 €
– Rollerskat
e
. That's right, only one. Price: 2 €
...And those are just the "finds" that have stood out in my memory. Add to that the countless nuts and bolts, cracked cups and dishes, plastic knickknacks and other trinkets we've come across, and one can see what's on offer here at our little
el Rastrillo
. Most of the time, we just end up walking around and nudging each other every few minutes, "Can you believe they would even
try
to sell that?!"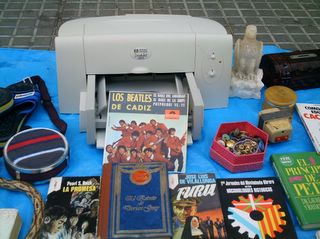 A rare find to complete your record collection!
That "The Beatles of Cádiz" album everyone's been talking about!

But I honestly don't think anyone in Cádiz turns out Sunday morning expecting to find a hidden treasure. It's just a form of entertainment – for the wandering crowds as well as the vendors. Most of them just sit there behind their stuff, drinking a cool bottle of beer and trying to fight off the approaching afternoon heat. They'll occasionally shout something out to grab attention, but most of the time they can't really be bothered. Making a sale is something secondary. If it happens, it happens. Besides, the vendors are usually too busy talking to friends or neighbors and trying to catch up on the latest town gossip.
Sunday morning vendor busy attending to customers
Still, my girlfriend and I wouldn't miss
el Rastrillo
for the world. We're faithful members of the Sunday morning throngs. There's no better entertainment to be found in Cádiz. Sure, we'll never find any hidden treasures like we would have in Madrid, but one never knows. After all, a few weeks ago a couple of friends of ours invited us over for some dinner and a game of RISK. When pushed for details and, it turns out they had actually bought the board game at
el Rastrillo
. Sure, it was missing a few pieces and Japan, for some reason, had disappeared off the face of map, but it still made for a great evening of world conquest. And all for the low, low price of two Euros.