To the people of Cádiz: Pack up your costumes, wash off your alcohol-stained coats, and drink a strong cup of coffee to get rid of that hangover. I'm sorry to inform you, but
Carnaval
has officially come to an end today. The final fireworks just went up in the distance and the traditional giant witch has been burnt on the evening beach. (A
very
windy beach that nearly killed some people when the entire thing went up in flames. Haven't you people ever heard of safety measures?) I don't want to hear any whining either. After all, you've had your ten days of fun and produced around 136,000 kilos (approximately 300,000 pounds) of trash in the process. It's time for you to go back to work tomorrow... Sorry, I forgot Cádiz has an unemployment figure of over 30%... It's time for those of you who actually
have work
to go back to work tomorrow.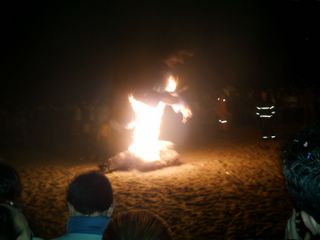 The fireworks I understand, but isn't burning a 15-foot tall witch on the beach some sort of a fire hazard?
Screw it, this is Spain and Carnaval... Burn Baby, Burn!!!
The thing that strikes me as most odd when it comes to the
Carnaval de Cádiz
is how long the damn thing lasts. Last time I checked, carnivals were supposed to end on Mardi Gras, or Shrove Tuesday. Carnival originated as, and is meant to be, a celebration of eating meat and doing all the other stuff you're not allowed to do during Lent before the fasting actually begins. And Lent, as far as Catholicism is concerned, starts the day after Mardi Gras on Ash Wednesday. So does that mean the devoutly Catholic Spanish of Cádiz were lined up outside their local church on Wednesday waiting for the priest to solemnly place an ashen cross on their foreheads? Hell no! They were still boozing in the streets, taking a piss on alleyway corners, and trying to get laid by the first drunken member of the opposite sex that crossed their intoxicated path. Whereas New Orleans, Rio de Janeiro, and Venice all ended their carnival celebrations on Tuesday night, Cádiz kept on going until the following weekend. This is a
fiesta
... The beginning of Lent be damned!
Welcome to Cádiz, where Carnaval is King!
But I'm getting ahead of myself. You see,
Carnaval
technically started about a month ago. These groups of singers known as
coros
(chorus) compete each year in the city's elaborate theater in order to be crowned that year's cherished
Coro de Cádiz
. The contest goes on each night with a new group of contestants singing their hearts out. The only problem is that the music sucks. I'm talking
seriously sucks
. Every
coro
performance has more or less the same rhythm and they all play that most wonderfully versatile instrument of all instruments, the kazoo – although the clave sticks were also sometimes thrown in for a bit of spice. The only thing that changes with each performance are the costumes and the lyrics but seeing as the local accent is so difficult to understand (native-speaking Spaniards from Madrid and other regions of the country have problems understanding the Cádiz accent too), I don't stand a chance of deciphering what they're singing. Anyway, this revolting music goes on for about a month and is even broadcast – live in the evenings in addition to over and over again through daytime re-runs – on the local TV stations. I would rather listen to Celine Dion do an interpretation of some AC/DC hits than the
coros
of Cádiz so I'm more than happy when all of this madness comes to an end the day before
Carnaval
begins.
Just another bunch of street-corner coros: Do you guys know how to play FreeBird?
Nah, I didn't think so...
On that Friday, the finals of the contest are held and that year's
coros
champion is selected. More importantly, the crowning of the new victors signals the
official
beginning of Cádiz's beloved
Carnaval
. The people of Cádiz absolutely adore this
fiesta
. It is a celebration to call their own and a chance to show off their city to the rest of Spain – Cádiz holds the largest Carnival in the nation – and the globe. People from all over the world come here for the festival. Technically,
Carnaval
is meant to be a showpiece for the winning
coro
and the numerous runner-ups as they play their horrid, monotonous, toneless songs on various street corners. But people don't come from Italy, Russia, Germany, and Argentina to hear some stupid
coros
. My friend from the Czech Republic definitely didn't come for that. No sir, he came for one thing and one thing alone. To get piss drunk.
"Ja, I come from the Nord' to drink your women and rape your wine."
The drinking starts on Saturday and it continues for nine days. That first day, everyone gets senselessly sozzled and wanders the streets in crazy costumes. Most costumes are home-made and, for that reason, many people continue to wear them throughout the nine days of festivities. But not all of them. That first day, however,
everyone
is dressed up from Grandma Martinez to Baby Pedro. Revelers on the streets are disguised as anything from a Roman soldier to a seductive nurse, regardless of gender.
Everyone gets dressed up the first Saturday of Carnaval, from the Masked Mutt of MonteCristo to ChickenLittle himself
Then, at night, the nine days of street-boozing begins
The vast majority of costumes, though, are of a sexual or religious nature and, more often than not, both. I couldn't begin to count how many pregnant nuns or priests with bulges in their pants I saw that evening and this past week. One night, I even saw this little old Sister – who I first assumed was an actual nun – with a rosary dangling from her neck and a portable altarpiece in her frail, wrinkled hands. She stopped in front of me and my Czech friend, opened her altarpiece to reveal a huge, glowing, red penis inside, and proceeded to bless us with the latex phallus and the sign of the cross. We solemnly thanked her for such kind words in the name of the Lord and went humbly on our way. Amen.
That's sacrilegious... Nuns arent't supposed to wear mini-skirt. Or ride those crazy triple-bikes!
And priests DEFINITELY aren't supposed to mention vagina, let alone talk to it and pose for pictures with it!
The next day, Sunday, was when the City of Cádiz was to show that it wouldn't be outdone by its own citizens. It staged the enormous
Gran Cabalgata Magna
parade which must have had at least twenty floats and hundreds of costumed participants. The floats varied from kiddie-theme ones – like the Tele-Tubbies or the immensely popular Los Lunnis – to more adult ones like the disco-strip float where topless teenage boys danced in Speedos as girls of the same age dressed in bikini tops and thongs grinded against them. (Although most of these Lolitas made for excellent eye candy, I must admit that a few of those half-naked porkers should have been jumping up and down in an aerobics class and not on a float traveling through the city's business district.) What must have been twice the city's population and then some lined the wide
Avenida
where the parade took place and cheered on as spectators. When it was all said and done, those of us still recovering from the previous day's hangover headed back into the old city center to start drinking in the streets again. Those with no hangovers, i.e. the die-hard
Carnaval
enthusiasts who had been drinking for 24 hours straight, kept on at what they had been doing since the weekend began. A hangover could wait for the next day.
Set up chairs along the Avenida, La Gran Cabalgata Magna is starting soon...

Extravagant floats ranging from Teenage Strippers to SpongeBob SquarePants...
Whether you're a seasoned pedophile or a budding toddler, there's bound to be something that catches your eye!

Universities and schools were lucky enough to be closed the entire week. Even banks were only opened for three hours on Wednesday, Thursday, and Friday. The rest of Cádiz, however, had to make do with less and only shut down on Monday and Tuesday. Tuesday just happened to be the regional
Dia de Andalucía
but Monday was a true Cádiz holiday of its own. No other city in Spain treats that Monday as a public holiday but here where I reside the store fronts are closed and calendars have it marked as
El Lunes de Resaca
. For those of you who don't speak Spanish, that translates into Hangover Monday. You may have heard of Holy Monday or Easter Monday, but here in Cádiz the only Monday that really counts is Hangover Monday. Grandparents, parents, and children all gather together under the same roof on this most sacred of holidays in order to overcome the effects of
Carnaval
weekend's near alcohol-poisoning. They drink strong cups of black coffee together and take the ritual cold shower after asking Granny to hold their hair as each respective family member dry-heaves into the toilet. My Czech friend, my girlfriend, and I just stayed in bed until about two in the afternoon... moaning and sucking down as much water as possible.
"Give it a rest Granny, it's Hangover Monday"
(This is an actual bus-stop poster advertizing the local beer)
A quick word concerning hangovers is in order at this point. When my Czech friend first arrived in Cádiz, we went out for a few of the best beers Spain has to offer. He spat them out in disgust and pondered how a nation of forty million could drink such foul-tasting barley water. I told him that a lifetime of drinking premium Czech Pilsner had ruined all other beer for him. Be that as it may, he refused to drink anymore Spanish beer and turned to the best alcohol the Province of Cádiz has to offer – sherry. Now, I can easily drink a bottle, or five or six, of beer and have no problems. But give me a few glasses of fortified wine, let alone the bottle we ended up drinking each night of
Carnaval
, and I'm gone further than Hemingway on a Parisian bender. And, trust me, the heads you get from having one too many glasses of sherry are as strong as they come – worthy of Hangover Monday itself.
After a bottle of sherry, who knows what you'll end up doing
However mighty that morning after the night before feeling may be, though, it's no reason for a good Spaniard to slow down his or her
Carnaval
activities. The yearly
fiesta
to end all
fiestas
simply kept on going strong for six more days until it finally ended today, March the 5th also known as
El Domingo de Piñata
, with the pyromaniacal witch-burning and closing fireworks that went up at around midnight. My girlfriend, on the other hand, had had her fill of the entire thing days ago. To be honest, I was sort of fed up with all of this
fiesta
as well (After all, how much sherry can one drunken expat English teacher be expected to drink?) but continued going out as the week wound on just to keep my vacationing Czech friend company. While I stayed out late into the wee hours of the morning, my girlfriend found it impossible to sleep with all the banging and drunken racket from the streets outside permeating our bedroom. Worse yet, each time she or I ventured out to walk the dog, we ended up dodging mountains of beer-soaked garbage and shards of broken bottles so that the mutt's paws wouldn't get cut up. Our door even got urinated on so many times that its facade began to emit a pungently acrid odor. I'm only thankful no one defecated on our doorstep. But my girlfriend and I weren't the only ones that had to put up with these despicable acts of dishonor to both home and neighborhood. Besides, we've only been living here for a year. Imagine those poor neighbors of ours that have been enduring this
Carnaval
carnage for decades.
Yeah, yeah, you got a beautiful voice, Toots. But try to keep it down a bit, will ya'?

You see, for every four residents who absolutely adore
Carnaval
, there's at least one who wholly detests it. Nowhere is this truer than in our
barrio
(neighborhood),
La Viña
, where
Carnaval
revelry is at its wildest. Remember that extra 136,000 kilos (300,000 pounds) I told you about that was dumped on the streets over the past nine days? Well most of it fell on
La Viña
outside my door. Then it got pissed on. This neighborhood is also the traditionally working class quarter so the houses are a bit shabbier and the unemployment is even higher than the city-wide average of 30%. The result of all this is that a number of the
barrio
residents are angry with the local government and letting their woes be known. A day before
Carnaval
erupted and the streets of
La Viña
flooded with tourists and wealthier Spaniards, an unhappy brave few ventured out into the narrow streets that would see the most
fiesta
action and blanketed the walls with graffiti. "Una semana cantando, todo el año tragando" ("One week of singing, an entire year of putting up [with this bullshit]"), "Bienvenido a la Capital del Paro" ("Welcome to the Capital of Unemployment"), and "
Carnaval
en la calle porque no hay viviendas" ("
Carnaval
in the street because there are no homes" [Local housing prices have increased by 145% since 1997 while salaries have remained relatively the same]) all appeared on numerous street corners and alleyways mostly in
La Viña
but throughout other
barrios
as well. The City of Cádiz spends hundreds of thousands, if not millions, of Euros putting on parades, buying fireworks, and hiring extra security and cleaning firms to take care of the filthy mess produced by
Carnaval
revelers and ensure that they are having a good time but won't address the critical issues of unemployment and ridiculously high housing costs that threaten to overwhelm its residents every other day of the year. It comes as no surprise that a few locals that I know actually use
Carnaval
as an opportunity to escape from the city and go on holiday. They would rather be hundreds of kilometers away in a hotel than party in their own neighborhood streets and partake in the hypocrisy that hangs over it.
Welcome to the Capital of Unemployment...
...And what it looks like every morning for 9 days as Carnaval rages on at night
However most of the local residents, the vast majority in fact, celebrate
Carnaval
to their heart's content and let the hypocrisy be damned. Perhaps this says a lot about the local character too: When life's looking down and you feel like a frown, just
fiesta!
,
fiesta!
,
fiesta!
away. Then again, maybe
Carnaval
is the easy way out. It's a lot easier to buy a bottle of whiskey, sherry, or beer and drink it down in the streets than to address pressing social and economic issues. In fact, sometimes, having a few glasses of the strong stuff and wearing a wild costume may seem like the only possibility.
"We ain't got jobs, but it's cool. Can ya' dig it?"
But, as I announced at the opening paragraph, it is time for you – the few people of Cádiz who actually have a job – to get back to work.
El Domingo de Piñata
has come and gone and those nine long days of
Carnaval
, one of the longest carnivals the world has to offer, has finally bowed its last curtain call. Whereas a few locals are, I'm sure, eager to return to life as usual, the overwhelming majority of you probably can't wait for next year's
Carnaval
to begin. After all, when you don't have a job, are in your mid-thirties, and still live under the same roof as your grandparents, what else do you have to look forward to? Don't fret just yet though! I've been told that this coming Sunday, a mere week after the largest street party Spain has to offer, the very same City of Cádiz is planning to organize a one day
Mini-Carnaval
. I swear it's true folks so forget about your woes! I guess nine days just wasn't enough and Town Hall has come to realize it... You know, Karl Marx must have never visited Cádiz in his day because, as far as this town is concerned,
Carnaval
is the true opiate of the masses. The local government better keep its fingers crossed and hope the downtrodden residents never come to realize it.